DM Awards Winner 2014
23. 10. 2014
And the Project of the Year goes to...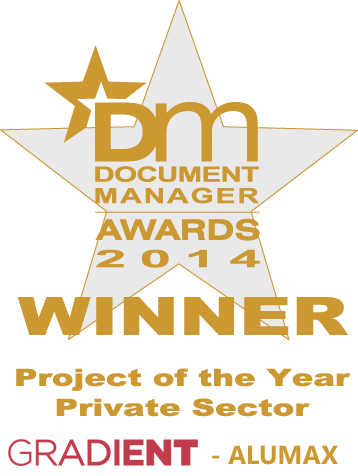 The Document Management Awards were held at the Hotel Russell in London's Russell Square, on October 23, 2014. With so many familiar faces seen, having done many meet n' greets at other conferences worldwide, it was great to get back in touch and see how everyone has come along in such a short amount of time.
The DMAwards are held yearly, and revolve around major industries revolving around Document Capture, Content Management, and even Records Management. It was a privelige and an honor to be in the rankings in various different categories alongside with big named organizations such as Xerox, ABBYY, Dicom and even more.

However, there were other technology thirsty enthusiasts out there, such as Comedian, Ian Irving and Sportsmen alike, Chris Cowdrey ex England Cricket player, and Kent Captain that attended the awards ceremony. This truly showed diversity, in that there is interest in how we can utilise our tech saavy ways to a better, more efficient level. We are all here to learn, share, and inspire others around us. So we're happy to be able to quench the thirst out there for some!
Alas though, the evening came to a great end and a success, when GRADIENT's name was annouced in winning,
Project of the Year for their implementation of GScan Online, a native SharePoint App in Office 365 for, ALUMAX. This is a great feat, as we showed the true expandability within an organization that one wouldn't suspect using such Document Capture capabilities. ALUMAX, is a comapny specializing in import, export and re-export of semi-finished goods from non-ferrous metals. And like many others out there battling the same, ALUMAX was using a stand-alone solution and application. This making it quite difficult to keep matters of business organized, fully accessible, easy to work with secure and safe, as well as an overall efficient working manner right at the office, with a wide range of devices.
A special thanks to the GScan Online team, for all their hardwork making 2014 yet, another successful year! We look forward to creating the latest and greatest future advancements to continue succeeding in the Document Capture industry for SharePoint and Office 365.
Cheers!
GRADIENT
If you are interested in learning more, please! Contact Us